$DIS – The market has severely crumbled in the last few days for many reasons, which I will not go into, but I have decided that whilst reviewing the results of what's going, that I must take a position in Disney. I would do a 3x leverage on this, but I dont know much about leveraging, so I have simply purchased a single share 101GBP in Disney, because it has returned to it's 2019 value.
My opinion is that Disney has many income streams due to it's diversification across it's product ranges. For example, they're big in the tourism industry with Disney World and Disney Land resorts, they do Disney cruises, and they must make some form of income from theatres that recreate Disney movies on stage. Add to these the Disney merchandise in stores, from t-shirts through to toys and they have some serious diversification going on, that all stems from the magic of cinema.
Now if they dont provide confidence that the brand will grow higher on stock price, then how about the string of movies that are coming out of the next year by Disney. A short list of my favourites are below. Please keep in mind that they also acquired the "Marvel" brand in recent years (remember they stopped Netflix making more "Dare Devil", "Luke Cage", "Iron Fist" and "Jessica Jones".
Lightyear
Hocus Pocus
Black Panther
The Guardians of the Galaxy
Now lets look further into that stock price below in the chart, it has returned to the 2019 value, which is a huge drop from its peak (190-200) in early 2021. The RSI has dipped below 30 in the last few days, but on the monthly view like this it shows as 30. This is low and was last this low when the pandemic first hit.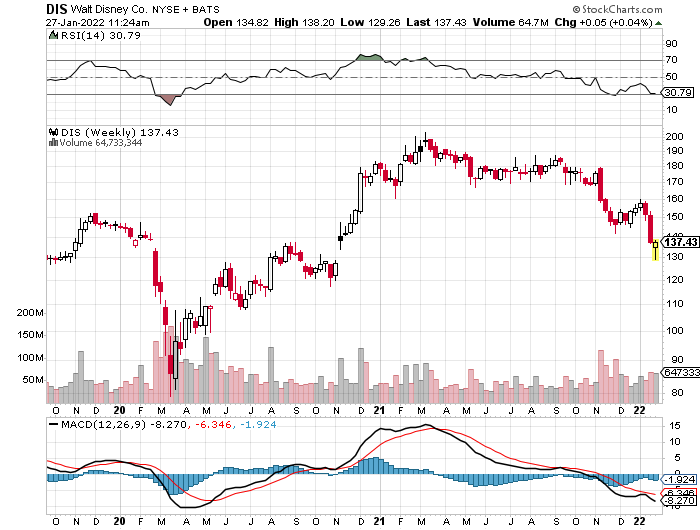 Yahoo has a recommended rating on this for "Buy" which is also a great sign. I think even when looking on FinViz, there's a lot of price predictions in the 180-190s.
Yahoo Finance Link: https://finance.yahoo.com/quote/DIS?p=DIS&.tsrc=fin-srch
Total Shares Purchased: 1
Share Price Paid: 136.90
Date of Purchase: 25th January 2022
Target Gain: 10%-20% gain
Target Stock Price: 150-160
Target Date Range: 2-3 months
Ticker: #DIS
Note: Please keep in mind I have no financial training and I really dont have a clue as to what I'm doing. Everything here is just me gambling, if you wish to copy then it is of your own choice and free will. I will not accept responsibility for your actions. Above is simply my personal opinion, your decision to agree or disagree is "your opinion".
Marketing: Do you want to get a free stock share worth up to 100GBP ? Create a trading 212 account and use promo code: FfWMs2FT or use this link https://www.trading212.com/invite/FfWMs2FT